《笔和栅栏》
Peace, Love and Fences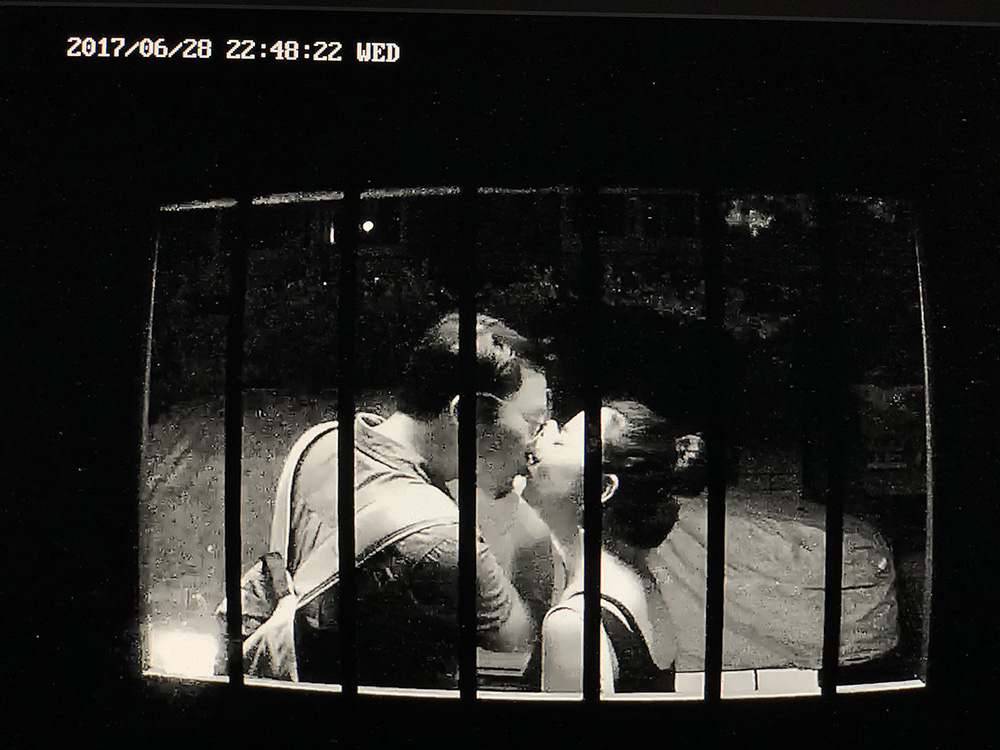 《栅栏》杨振中 Fences, Yang Zhenzhong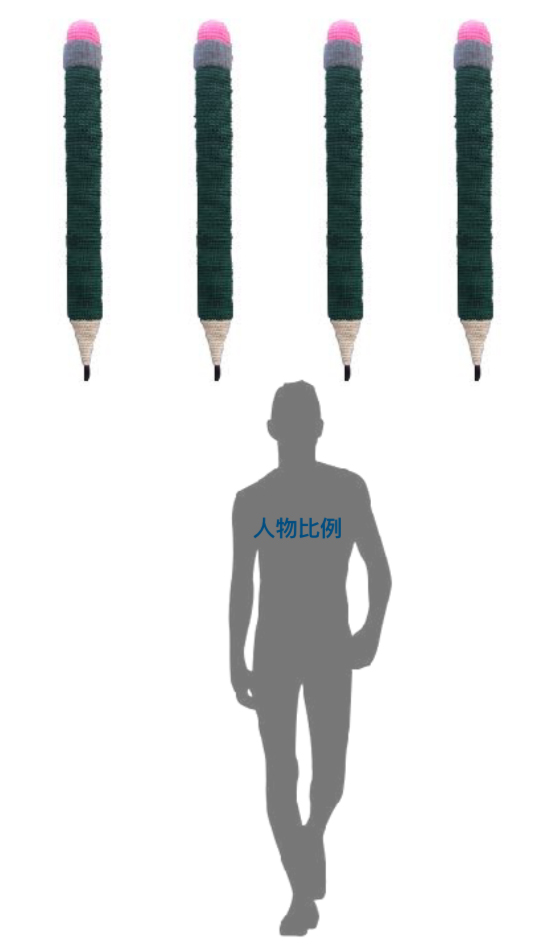 《Love and Peace》胡尹萍 Love and Peace, Hu Yinping
《笔和栅栏》
2021年7月9日到11日,箭厂空间将参加第六届北京abC艺术书展的主题展"共同的街道"。箭厂此次除了呈现空间过往的三本出版物外,在临近展厅入口的一面墙壁上也将同时展出两件与箭厂历史渊源颇深的艺术家作品。

2016年冬,艺术家胡尹萍在箭厂空间展出了她母亲在过去一年中编织的65顶毛线帽子(《小芳》),而这些造型奇特的帽子其实是由她安排的一位朋友小芳充当"帽子经销商"向她母亲高价收购。胡妈妈的"好运"一经传开,镇里的妇女陆续参与,逐渐从一个人的编织发展为50多人的编织共同体。2018年夏,箭厂空间展出了这个项目之续篇:85套毛线比基尼泳装(《雪白的鸽子》),此后胡尹萍的项目进入了第三个阶段:"Love and Peace",她让小芳给阿姨们一个问题:"如果有人侵犯你和你的家人,你用什么武器保护自己?可以用毛线把这些武器织出来。"这次展出其中一位阿姨织的四根巨大的铅笔,她认为在很多时候可以"以笔为剑",笔同样可以很好的保护自己。

2017年6月,艺术家杨振中将箭厂空间的落地推拉门改为了一扇栅栏小窗,并在双向镜后架设了监控设备拍摄窗外的胡同街道,他的这件作品(《栅栏》)本是对胡同环境的一次巧妙伪装,但在当时却意外的使空间又多存在了两年。这次我们将以单频录像的方式呈现其中两天从箭厂内部拍摄的胡同景观。
...

胡尹萍1983年生于四川,毕业于中央美术学院雕塑系(2010年),周遭的环境和际遇是她作品的土壤。她曾在北京箭厂 空间 2016年 和魔方 2016年 等独立空间做过个展,并参加过在PACE画廊 北京 Klein Sun画廊 纽约 FIAC Kommunale 画廊(柏林)的群展。她也是"@PARTY"的创始成员(2012年)。胡尹萍目前生活和工作于中国北京。

杨振中1968年出生于浙江杭州, 通过创作影像和装置作品来表达他对一些普遍社会问题的态度。作品曾在威尼斯双年展、上海双年展、亚太艺术三年展和里昂双年展上展出,也曾被纽约现代艺术博物馆,英国IKON美术馆,日本福冈亚洲美术馆,法国国家现代艺术博物馆和瑞银集团等机构收藏。杨振中生活和工作于上海。
Peace, Love and Fences

From July 9-11, 2021 as part of the themed exhibition Common Street at the 6th abC Art Book Fair Beijing, Arrow Factory will present our three publications, as well as two works by artists Hu Yinping and Yang Zhenzhong. The artworks will be displayed together on a single wall near the entrance of the exhibition hall. Both works have connections to projects previously presented at Arrow Factory.

Hu Yinping
In the winter of 2016, the artist Hu Yinping exhibited sixty-five woolen hats knitted by her mother for a project entitled Xiao Fang. In Xiao Fang, Hu conned her mother into knitting hats on the pretense of a hat broker "friend," Xiao Fang, who bought them at above market rates. Once word spread of Hu's mother's good fortune, the surrounding township's ladies were also keen to participate and the project grew. The concept expanded from a single knitter into a weaving collective of fifty women. In the summer of 2018, Arrow Factory exhibited the sequel to this project: eighty-five knitted bikinis for Snowy White Dove.

The latest phase of Hu's ongoing social experiment is called Love and Peace. This time, Xiao Fang has posed this question to the township ladies: "If someone assaults you and your family, what weapon do you use to protect yourself? Please knit these weapons." The huge knitted pencils on display come from one auntie who felt protection could be found in stabbing an assailant with a pencil. It is said that the pen is mightier than the sword, but for some, the pen is also the sword.

Yang Zhenzhong
In June 2017, artist Yang Zhenzhong presented Fences, and transformed the floor-to-ceiling sliding door of Arrow Factory's glass facade into a small barred window/mirror. A video camera was mounted behind the two-way mirror and set to record all the movements outside the window in the hutong for eighty days and nights. Fences was a dramatic camouflaging of the Arrow Factory space and helped to extended the life of the art space for an additional two years. At abC, we present an edit of the video footage that Yang recorded of the window and street outside Arrow Factory.
...

Hu Yinping (b. 1983, Chengdu, Sichuan) earned her MFA from the Sculpture Department at the Central Academy of Fine Arts (CAFA) in 2010. She channels chance meetings and fortuitous situations into insightful scenarios. Her work has been exhibited in solo exhibitions at Arrow Factory (2016) and Mocube (2016), and was included in group exhibitions such as "Unlived by What is Seen" at PACE Gallery (2014) and the Kommunale Galerie in Berlin (2017). She is a founding member of the "@PARTY" collective (2012). Hu lives and works in Beijing.
Yang Zhenzhong (b. 1968 in Hangzhou, Zhejiang Province) creates irreverent videos and wry installations that comment on prevailing social constructs. His pieces have been exhibited at the Venice Biennale, Shanghai Biennale, Asia Pacific Triennale of Contemporary Art, and Lyon Biennale. His works are included in collections at MoMA New York, IKON Gallery (UK), Fukuoka Asian Art Museum, Musée National d'Art Moderne and the UBS Collection. He lives and works in Shanghai.
第六届 abC艺术书展
2021年7月9-11日(周五到周日)
10:00 - 18:30 (周日18:00关闭)
今日美术馆2号馆 / 今日艺廊 / 牧云空间
北京市朝阳区双井百子湾路32号

The 6th abC Art Book Fair Beijing
July 9-11, 2021 Friday - Sunday
10:00-18:30 (Until 18:00 on Sunday)
Today Art Museum
Hall 2 / Today Art Gallery / Muyun Space
32 Baiziwan Road, Shuangjing, Chaoyang District, Beijing

微信公众平台@abC艺术书展
微博@abC艺术书展
http://artbookinchina.com
Instagram @abcartbookfair