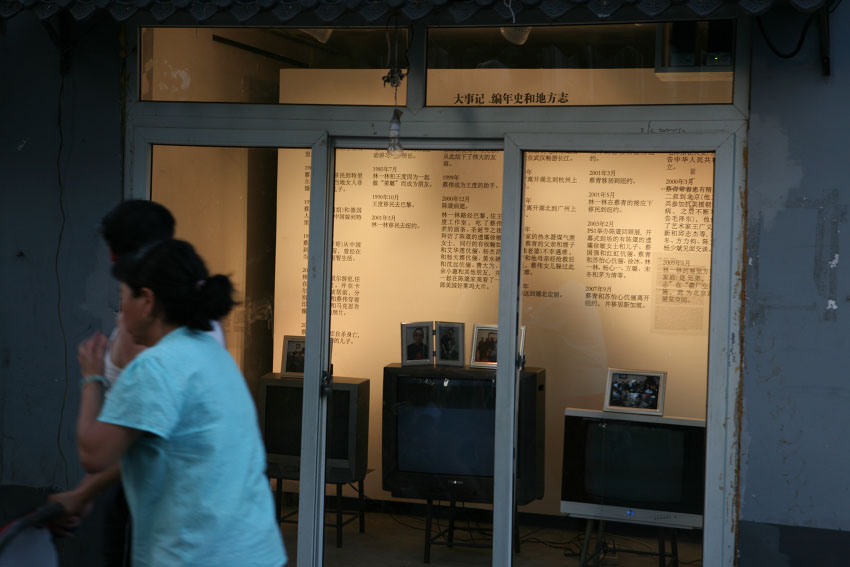 装置现场 Photo from the installation
大家庭:是兄弟,不是同志
林一林艺术计划,蔡青、蔡伟和方璐作品共同展出。
2009年6月15日-2009年 8月9日
6月14日星期天下午四时至六时请光临本次展览的特别活动!
《大家庭:是兄弟,不是同志》,是一个从看似无关紧要的立场出发来讲述所谓重大事件,进而探讨集体与个人经历之间动态变化的项目。林一林一改"历史"作为重大事件、地点和个体编年史的标准叙事手法,《大家庭:是兄弟,不是同志》这件新作呈现了与平凡、随意和个人密切相关的纪录。作品试图将附带事件置于核心舞台,进而削弱书面历史的主导方针,把玩我们用以将重要事件从不相干事件中区分出来的方式。
由于采用了宏大的历史年表的风格特征,《大家庭:是兄弟,不是同志》运用录像、摄影和文本,来标记海外华人艺术家这一特定群体中的活动和事件——可以说,这是一个分布在不同国家和大陆的家庭—他们通过1990年代走出国门这一共同经历而联系起来。其中一些艺术家非常有名,另一些名不见经传;有人横贯欧洲,而有些则前往美国。一些人功成名就、时来运转,而另一些则贫病交加、郁郁而终。然而,从某些方面来讲,他们的生活不经意间同有意或无意地离开中国后的边缘生活所导致的事件和经历相联系。描绘这些偶然经历如何发生,如何彼此重合,如何同毛主席、卡尔·马克思以及弗里德里希·恩格斯这些著名政治人物相重叠,重点强调了这些个别经历和轨迹的随机性和不重要的特征。就像之前在箭厂空间的其它艺术项目一样,《大家庭:是兄弟,不是同志》也考虑到其周边环境和背景语境,在这种情况下,微渺的个体当中所发生的一系列琐碎事件被有意呈现在一个边缘空间中,唤起我们对于为不同遭遇和经历赋予不同的"重要"程度时我们自身偏见和判断的关注。年表一直延续至今,箭厂空间和艺术家为此将在六月十四日周日下午四时至六时举办一次特别的非正式活动,在纪念《大家庭:是兄弟,不是同志》的同时也将这些历史经历在北京一条不起眼的胡同中进行延续。
装置现场
Photo from the installation
---
Big Family: Brothers, Not Comrades
A project by Lin Yilin, with works by Cai Qing, Cai Wei and Fang Lu.
June 15 – August 9, 2009
Please join us for a special event on Sunday, June 14, 4-6pm
Big Family: Brothers, Not Comrades, is a project that explores the dynamic between collective and personal histories through the telling of so-called important events from the perspective of the seemingly insignificant. Inverting the standard narration of 'History' as a chronicle of major events, places and individuals, Lin Yilin's new work, Big Family: Brothers, Not Comrades, presents a record that relates to the mundane, arbitrary and personal. The work attempts to undermine dominant strategies of writing history by putting sidelined events into center stage, playing with the ways we distinguish the important from the irrelevant.
Adopting the stylistic hallmarks of a grand historical timeline, Big Family: Brothers, Not Comrades uses video, photographs and text to chart the events and episodes amongst a specific group of overseas Chinese artists—a family so to speak, spread across different countries and continents—that are united by their joint experiences in migrating from China during the 1990s. Some of the artists mentioned are famous, some are lesser known; some traversed Europe and some went to America, some encountered fame and fortune while others fell ill and died. Yet their lives are all in some way linked by chance episodes and experiences that result from a life in the margins after voluntary or involuntary exile from China. Tracing how these random histories coincide and overlap with one another and with preeminent political figures such as Chairman Mao, Karl Marx and Friedrich Engels, underscores the random and nonessential roles of these individual histories and locations. As in previous Arrow Factory projects, Big Family: Brothers, Not Comrades is ever mindful of its surrounding environment and context. In this case a set of trivial events occurring amongst minor individuals are purposely presented in a marginal space, calling attention to our own bias and judgment in attaching scales of 'importance' to various encounters and experiences. Continuing the timeline up to the present, Arrow Factory and the artist will hold a special informal event on Sunday, June 14 from 4-6pm to commemorate Big Family: Brothers, Not Comrades and to realize the ability for these histories to leave their mark on such far-flung places as an inconsequential hutong alley in Beijing.
装置 现场 Photos from the installation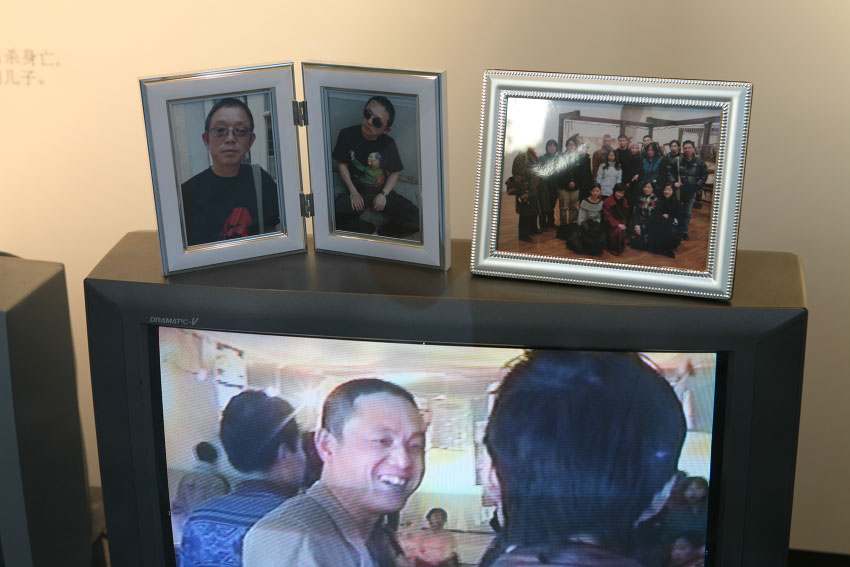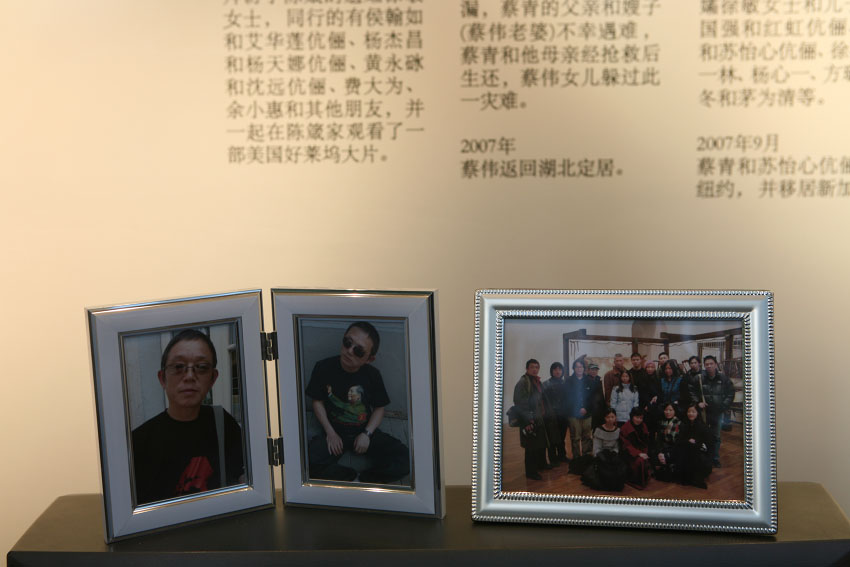 林一林展览6月14日活动现场 photos from the Special Event on June 14, 2009: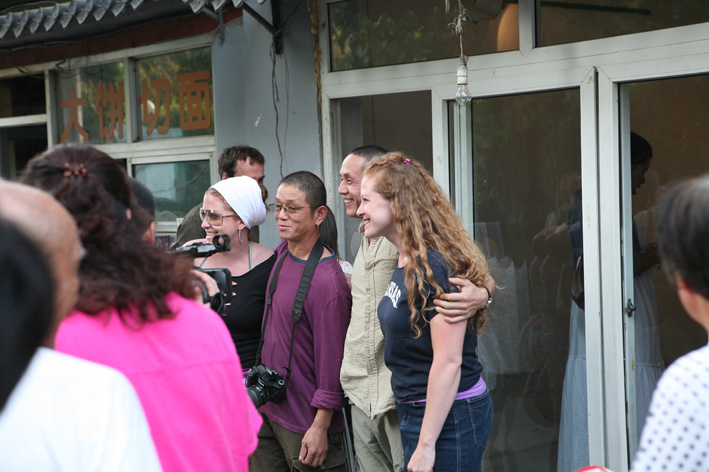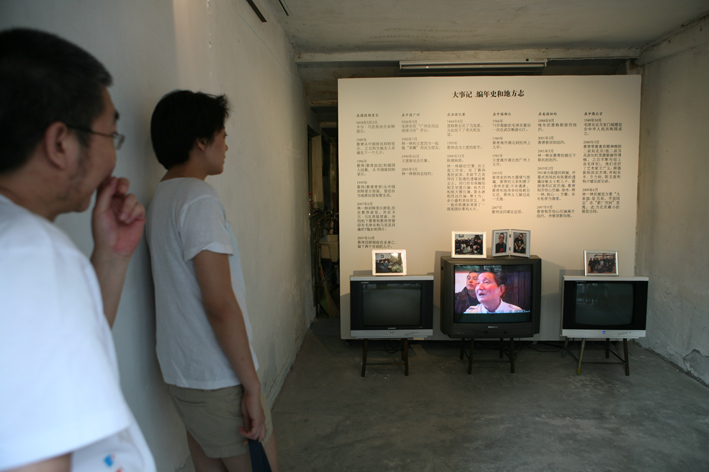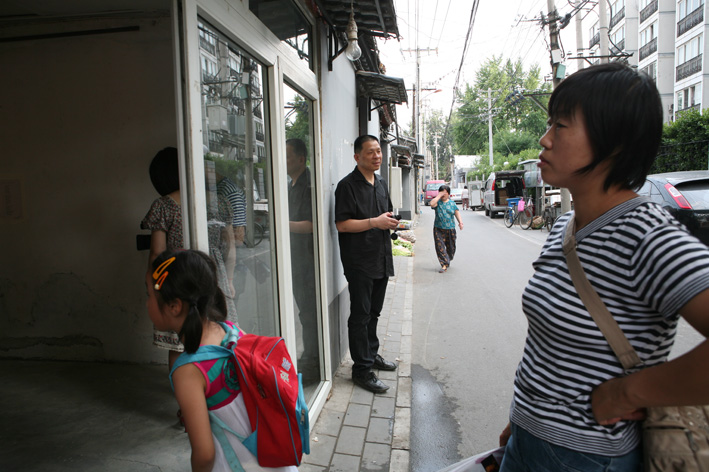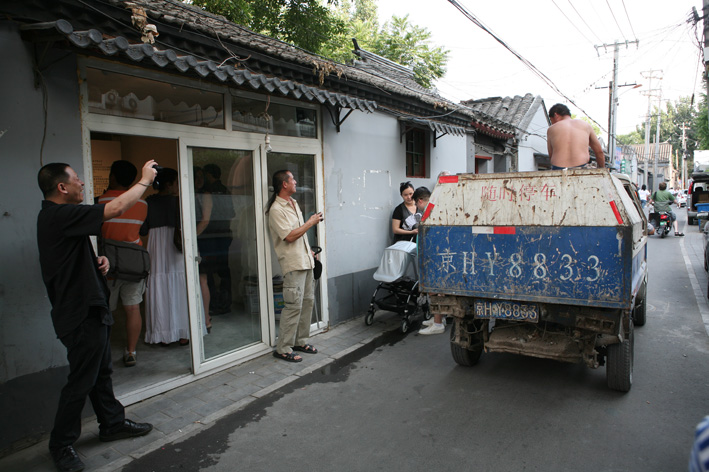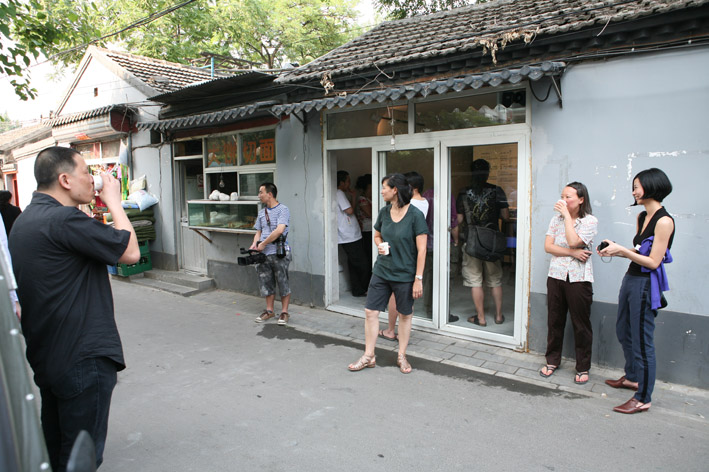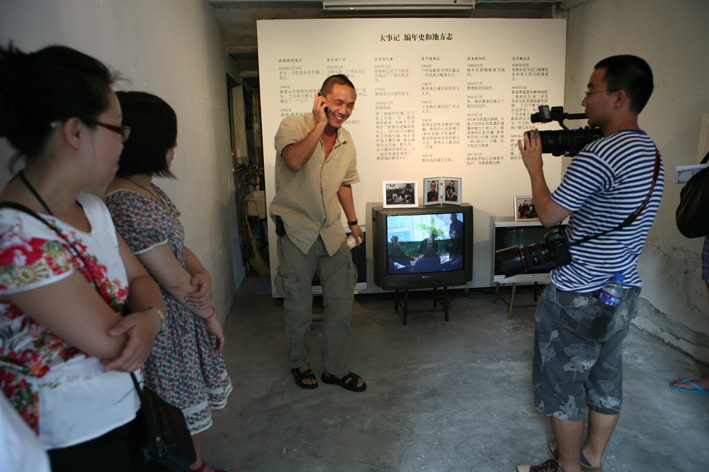 蔡青给二叔打电话 Cai Qing calls Second Uncle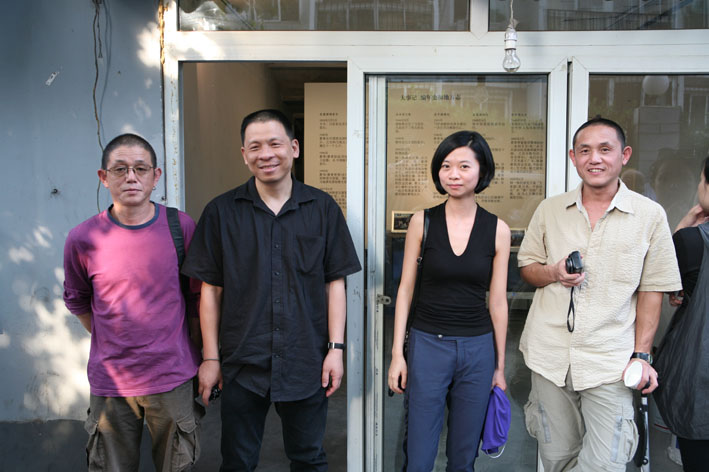 从左到右:蔡伟,林一林,方璐和蔡青 l to r: Cai Wei, Lin Yilin, Fang Lu, Cai Qing