2012.04.12 展览延期 EXTENDED THRU APRIL 12, 2012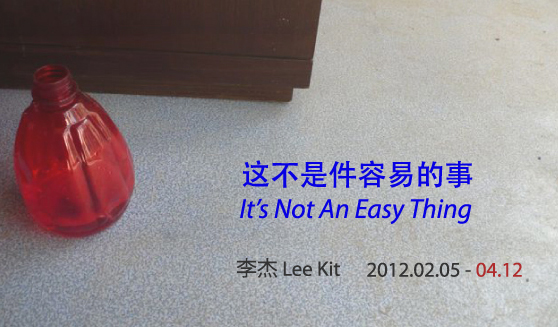 《这不是件容易的事》
李杰
2012年2月5日至3月25日 2012.04.12 展览延期
《箭厂空间在此荣幸地推出香港艺术家李杰的新作《这不是件容易的事》。艺术家在空间里再现了一个想象中的上世纪八十年代的音乐商店,作品集艺术家杜撰的记忆、天马行空的想象和苦乐参半的回忆于一体,作为对那段时光伤感地致敬。李杰的艺术创作以平面绘画为主,此次他转而以日常物品、家具和音乐为媒介,重建过往场景,让人想起那逝去的年代和遥远的心绪,或企盼,或失落,或期翼,或黯然。作品中的场景虽然平常不已,但其所处的特定历史时刻-1989年前后一张新唱片发布的前夜,充满了担忧并激动的复杂氛围在此赋予了作品一种情感上的力度。
《这不是件容易的事》灵感源于艺术家的首次北京之旅,那次隆冬时节的旅行给艺术家带去无尽的思绪-对于寒冷严冬的担忧转化为进入中国大陆的政治空间和追忆过往的莫名感受所带来的不安。李杰在作品中将内心的这种纷乱与忧郁和他香港人外来者的边缘身份自然而然地结合成为一种隐秘记忆的纪念物,即无所谓真实,也没有逻辑。伴随作品循环播放的是八十年代台湾流行歌手蔡琴的歌曲。她甜美的歌声和浪漫的旋律赋予作品一层乡愁的味道。作品标题"这不是件容易的事"源于蔡琴的名曲《恰似你的温柔》中的一句歌词。这件作品反映了李杰试图在自我内心的脆弱性和外部现实世界的烦扰和不公之间达成一种和谐的努力。
李杰,1978年生于香港,在香港中文大学获得艺术学士和硕士学位。他主要从事绘画、素描、视频和装置等不同形式的创作,作品大多着眼于自我与日常生活之间的关联。他在温哥华Western Front艺术空间(2011)和香港 Para/Site艺术中心(2007年) 举办过个展,并参加了一系列国际群展和双年展,包括由即将由今年纽约新美术馆举办的"世代"三年展。
It's Not An Easy Thing
Lee Kit
February 5 – March 25, 2012 EXTENDED THRU APRIL 12, 2012
Arrow Factory is pleased to announce a new installation by Hong Kong artist Lee Kit. Taking the form of an imagined music shop from the 1980s, "It's Not An Easy Thing" is both an elegiac tribute to a specific moment in time and an aggregation of the artist's invented memories, tangential associations and bittersweet emotions. Foregoing his usual practice of painting, Lee has chosen instead to sparingly combine assorted daily objects, furniture and music into a common scene reminiscent of another era and another state of mind that oscillates between anticipation and loss, hopefulness and mournful regret. The setting appears typically mundane but the timing and atmosphere it intends to evoke—a mixture of apprehension and excitement upon the eve of a music album release circa 1989—is deeply charged.
"It's Not An Easy Thing" is inspired by sentiments surrounding the artist's first visit to Beijing during the dead of winter. The journey triggered in Lee an array of associations and conflicting emotions; fears about experiencing the acute cold translated into trepidations about entering the political space of mainland China and being confronted with unresolved feelings about the past. Lee's internal agitations—which tend naturally towards the melancholic—compounded by his peripheral position as an outsider from Hong Kong, have yielded a cryptic memorial with fictional and illogical origins. Integral to the atmosphere is the looping soundtrack by Cai Qin, a Taiwanese pop singer active during the 1980s whose saccharine lyrics and romantic melodies flow in and around the installation adding another layer of nostalgia. Borrowing a lyric from Cai's hit songJust Like Your Tenderness for its title, "It's Not An Easy Thing" epitomizes Lee's ongoing effort to reconcile the fragile workings of his inner self with the outward discomforts and injustices he faces in everyday reality.
Lee Kit (b. 1978, Hong Kong) received both his BA and MA in Fine Art from the Chinese University of Hong Kong. He normally works in painting, drawing, video, and installation, often concerning himself with the sphere of the everyday. He has held solo shows at the Western Front in Vancouver (2011) and Para/Site Hong Kong (2007) and and has participated in various international group shows and biennials, including this year's Generational (2012), organized by the New Museum in New York.
installation photos: