地点:英国伦敦泰特现代美术馆
参加艺术家:约翰·阿伦斯(德国)、斯蒂凡·苏尔泽(瑞士)
特约策展人:白雪
Featured artists: Johann Arens (DE), Stefan Sulzer (CH)
Guest curator: Snejana Krasteva (BG)
时间:2010年5月14日 - 15日 -午夜;2010年5月16日,上午10时 - 下午6时

2010.05.14-15, 10:00 – 24:00
2010.05.16, 10:00 – 18:00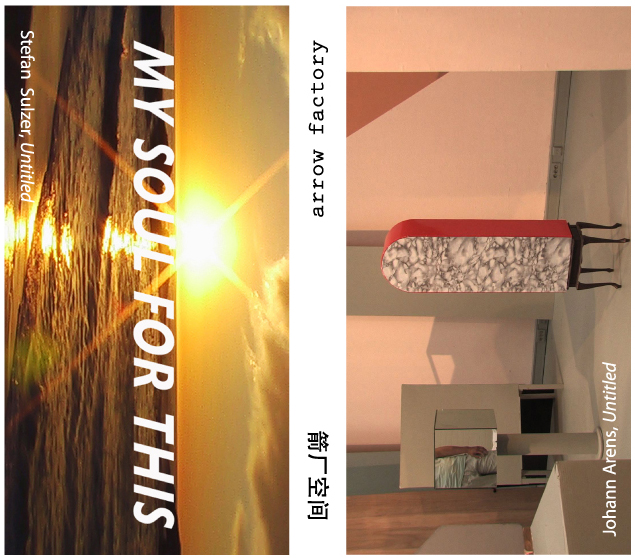 自2008年创立以来,箭厂空间一直充当的是北京当代艺术创作的非主流途径。它坐落在远离城市最频繁光顾的艺术区的一条胡同里,占据了面积适中(15平方米)的前菜店。箭厂空间的铺面空间展示了临时的作品,这些作品高度依赖于当地的直接周边环境,与一个特定地域不同的经济、政治和社会状况以及日常生活体验形成了具有深远意义的呼应。
沿着这一思路,箭厂空间邀请一位居住在伦敦的策展人和艺术家们占用这一空间,从而将其参加《没有灵魂可以出卖》转包给当地资源。对箭厂空间的实际环境没有任何直接了解,艺术家斯蒂凡·苏尔泽和约翰·阿伦斯想象并利用在《没有灵魂可以出卖》"摊位"上勾画出的箭厂所占用的空间,向观众清楚地表述剩余的或者更具体的空间。在这个划定的区域内,艺术家们将各自展示新的作品,通过他们共用的场地而彼此联系,与一个遥远、(对他们而言)不可知的,因此也是"虚构的"空间这一概念相呼应。
斯蒂凡·苏尔泽的新作与《没有灵魂可以出卖》本身的标题有着异曲同工之处。"我不仅为此贡献了我的灵魂,还有我的时间"这段话形成了对一个坦然的问题作出的回答,清晰地紧靠在一幅放大的日落景象前。通过这一表述,"灵魂"和"时间"这两个观念被加以比较,形成了这样一种假设,即后者被认定比前者更有价值。苏尔泽的作品以挑衅性的、机巧而简单的姿态,表现了对普遍接受的叙事、回忆和真理的拆解和解构。
约翰·阿伦斯的新录像作品是一个双通道的放映项目,在观看的过程中有意干扰和中断。一台小监视器摆放在一台更大的投影幕前,显然有机地与其更大的对应物相隔绝。同时跟近两个屏幕的不可能性则围绕着把握我们自身现实割裂的本质所具有的局限性。在内部空间行走的声迹与这些影像相伴。这部作品是对形式、结构、观看过程以及角色扮演进行的复杂而程式化的研究,是阿伦斯对与电影表现手法以及观看方式的兴趣的延续。
Since its founding in 2008, Arrow Factory has functioned as an alternative outlet for contemporary art production in Beijing. Located in a hutong alleyway far away from the city's frequented art districts, it occupies a former vegetable stand of a modest size (15sqm). In its storefront space Arrow Factory presents works that are provisional in nature, highly contingent upon the immediate local environment and that form meaningful responses to the diverse economic, political and social conditions of a given locality and everyday lived experiences.
Following this line of thinking, Arrow Factory has decided to outsource to local assets for its participation in No Soul For Sale by inviting a curator and artists that live and work in London. Based solely on remote knowledge of Arrow Factory's actual site, this collaboration triggered Stefan Sulzer and Johann Arens to imagine and utilize the real footprint of Arrow Factory, delineating the fictional (for them) space of the gallery within the No Soul For Sale "booth" and allowing a remaindered or externalized space to become visible. Within this newly created area, the artists present individual works that are, in turn, a complex and challenging exercise in "delineation."
The work by Stefan Sulzer, shown here for the first time, has a particular unplanned resonance with No Soul For Sale's own title. Forming an answer to an unposed question, the words "I HAVE NOT ONLY SACRIFICED MY SOUL FOR THIS BUT MY TIME" stand clear on the background of a pixilated enlarged print of a sunset. This background picture has almost become a contemporary metaphor for the transcendental self: lost, traded, saved, sacrificed, burned, sold…this "soul" seems susceptible to all of life's vicissitudes. One's soul remains an unquantifiable measure, unlike the concept of time, which has been tamed and recorded in measures as small as a nanosecond. However, through this statement it seems that the two concepts become somehow comparable; even more, the latter is deemed more valuable. What are they sacrificed for exactly? And if we inverse the roles the question could be: what is the material or immaterial value of an artwork? Sulzer is very much interested in unpacking and deconstructing commonly accepted narratives, facts, concepts, memories or truths. And he does this through his own provocative, witty scenarios executed with aesthetically simple gestures.
Johann Arens' new video is a two-channel projection that intentionally disrupts and intervenes with the viewing process. A small monitor positioned in front of a bigger projection creates a visual metaphor in which the smaller screen appears to have been organically severed from its larger counterpart. The two screens simultaneously alternate in showing apparently incongruous scenes of exteriors/interiors. The impossibility of following both of the screens at the same time accentuates the physical limitations of grasping a reality that is both internalized and exteriorized. These images are accompanied by a soundtrack of ambient sounds of people walking through an interior space, giving the impression of an inhabited, animated place when in reality all that is seen is the static paraphernalia of domestic life: sofas, patterns, and plants. A complex but stylized investigation in forms, structures and processes of viewing and role-attributing, this work is a continuation of Arens's interests in methods of cinematographic expression and viewing practices.
--
斯蒂凡·苏尔泽(1978年出生于瑞士) 目前在英国伦敦金史密斯学院攻读硕士学位。目前展览包括:《安魂曲》,瑞士弗卡Furkablick学院(2009年);《苏黎世的工作与工作室》,瑞士苏黎世赫尔姆霍斯(2009年);《营养》,瑞士苏黎世谢德哈勒画廊(2009年)。未来展览包括萨拉热窝双层公寓的《阅览室》;巴塞尔凡·赫尔伯格的《词句作品》以及伦敦核心画廊的《第十八个非常时刻》。
约翰·阿伦斯(1981年出生于德国) 目前在英国伦敦金史密斯学院攻读硕士学位。他最近的展览包括:《突现》,荷兰阿姆斯特丹Meneer de Wit(2009年);《FRàGIL》,法国巴约讷Carré Bonnat(2009年);《与欢乐订约》,意大利罗马Rialto Santambrogio(2007年)。未来展览包括在伦敦和利物浦举办的《2010年新生当代人》。
白雪(1979年出生于保加利亚) 独立策展人。白雪目前在英国伦敦金史密斯学院攻读策展硕士学位。之前五年,她在一直在中国生活和工作,曾经营北京一家当代艺术画廊,并在尤伦斯当代艺术中心担任助理策展人职务。
Stefan Sulzer (b.1978, Switzerland) Currently pursuing a master's degree at Goldsmith College in London, UK. Recent exhibitions include: Requiem aeternam, Institut Furkablick, Furka Passhöhe, Switzerland (2009); Werk- und Atelierstipendien der Stadt Zürich, Helmhaus, Zürich, Switzerland (2009); Nahrung, Shedhalle, Zürich, Switzerland (2009). Future shows this year include The Reading Room at Duplex Sarajevo; Word Works at Van Horbourg, Basel and The Eighteenth Emergency at Core Gallery London. www.stefasulzer.com a contemporary art gallery located in Beijing and worked as assistant curator at Ullens Center for Contemporary Arts before moving to UK.
Johann Arens (b. 1981, Germany) Currently pursuing a master's degree at Goldsmiths College in London, UK. Recent exhibitions include: Pop Up, Meneer de Wit, Amsterdam, Netherlands (2009); FRàGIL, Carré Bonnat, Bayonne, France (2009); A pact with Joy', Rialto Santambrogio, Rome, Italy (2007). Plans for the future include the exhibition New Contemporaries 2010 in London and Liverpool this autumn. www.johannarens.com
Snejana Krasteva (b.1979, Bulgaria) Independent curator currently pursuing a master's degree in Curating at Goldsmiths College in London, UK. For the past five years she has been based in China, where she ran a contemporary art gallery located in Beijing and worked as assistant curator at Ullens Center for Contemporary Arts before moving to UK.
---
OFFICAL PRESS RELEASE: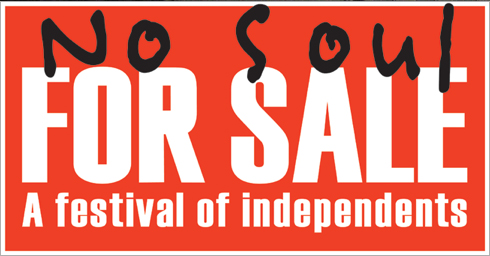 Go to the No Soul For Sale website
31 March 2010
Press Release No Soul For Sale – A Festival of Independents
Tate Modern, Turbine Hall
Admission Free
14 and 15 May 2010, 10:00 – Midnight
16 May 2010 10:00 – 18:00
For public information number please print 020 7887 8888
没有灵魂可以出卖,是一个独立者的节日,来自世界各地最有趣的非营利中心、非主流机构、艺术家团体和地下公司齐聚一堂。   
没有灵魂可以出卖盛赞了那些为信息传播和新参与模式发明新策略,从而为国际艺术节做出贡献的人们。《没有灵魂可以出卖》既非交易会,也不是展览会,它只是为艺术的繁荣昌盛贡献了力量的个人和团体的一次集会。通过免费入场和每天大量而丰富的活动,《没有灵魂可以出卖》十一次生活在市场之外、并且为当代艺术赋予生命力的独立力量的一次自发的盛宴。这个节日是一次共存演练,或者就像《纽约时报》给第一届所起的绰号:"非营利团体的奥运会"。
在庆祝英国泰特现代美术馆成立十周年之际,美术馆特组织一次关于独立艺术空间的展示活动-"没有灵魂可以出卖"。介时将有来自全球超过70家独立艺术空间,非营利组织和艺术家小组参与其中-从上海到里约热内卢的众多表演,音乐和电影活动将占据其标志性的涡轮大厅,活动时间为2010年5月14-16日。
第一届《没有灵魂可以出卖——独立者的节日》是塞西莉亚·阿雷曼尼、莫瑞吉奥·卡特兰和马希米里阿诺·乔尼发起,2009年6月在纽约前迪亚艺术中心的X Initiative举办。
To celebrate Tate Modern's 10th anniversary, the gallery will host No Soul For Sale – A Festival of Independents. For this free arts festival, Tate Modern is inviting over 70 of the world's most innovative independent art spaces, not-for-profit organizations and artists' collectives, from Shanghai to Rio de Janeiro, to take over the Turbine Hall. The festival will fill the iconic Turbine Hall space with an eclectic mix of cutting-edge arts events, performances, music and film on 14-16 May 2010. The gallery will stay open until midnight on Friday 14 and Saturday 15 May for late night events with special guests to be announced very soon. Tate Modern first opened on 12 May 2000 and over 45 million visitors have passed through the gallery's doors since.
To stage No Soul For Sale, Tate Modern is working in collaboration with artist Maurizio Cattelan and curators Cecilia Alemani and Massimiliano Gioni. The festival will bring together some of the most exciting and experimental new art from around the globe, displayed in an unconventional, do-it-yourself style. Ranging from monumental structures to witty interventions, epic performances to interactive installations, participants will exhibit alongside each other without partitions or walls, creating a pop-up village of global art for visitors to explore.
The organisations taking part will respond to the invitation with a range of unique projects, building on the participatory spirit of previous Turbine Hall commissions. White Columns (New York) will work with Sonic Youth-musician, Thurston Moore, to launch the new issue of his Ecstatic Peace Poetry Journal. Publishing poetry by individuals who intersect the worlds of poetry, music and art, the journal will be printed on paper designed to fly as a kite in the Turbine Hall. Meanwhile, Barcelona-based duo Latitudes will collaborate with Spanish artist Martí Anson, who will set up a taxi firm and drive the pair from Barcelona to London and back, designing the vehicle, chauffeur's uniform and route.
Elsewhere in the space, Kling & Bang gallery (Reykjavík) will dangle a large-scale column of cash register rolls from the 40-metre high ceiling of the Turbine Hall, creating an interior space filled with video projections. Hailing from New York, K48 Kontinuum will make their stamp on the Turbine Hall with a giant photo of a slice of pizza plastered to the floor. Arthub Asia (Shanghai/Bangkok/Beijing) will add to the playful, anarchic atmosphere of the festival with work from artist Zhou Xiaohu, who will translate the gallery's signs into Chinese. A number of UK-based organisations will take place including Museum of Everything (London), Auto Italia (London) and The Royal Standard (Liverpool).
The festival will bring together a number of cutting-edge contemporary film and video organisations including Light Industry (New York), Centre Cinématèque de Tanger (Tangier), and no.w.here (London), who will devise programmes of screenings and collaborations with video artists. It will also invite art-related publications such as e-flux (Berlin), who will set up a production space that allows visitors to act as publisher. All participants will host a live event of their choice on the dedicated performance space on the Turbine Hall bridge, ranging from talks and screenings to performances.
Notes to editors
The first edition of No Soul For Sale – A Festival of Independents was spearheaded by Cecilia Alemani, Maurizio Cattelan, and Massimiliano Gioni, and took place in June 2009 at X initiative in the former Dia Center for the Arts in New York. The idea for the festival was devised to celebrate and foster a spirit of independence and diversity in the art world.
As part of No Soul for Sale, Tate Modern is opening late on the 14 and 15 May 2010, tying-in with the nationwide project Museums at Night. Museums at Night is the annual after-hours celebration of UK culture, history and heritage that sees museums and galleries all over the UK staying open late and putting on special events to get people to do something different with their evening – and enjoy the history and heritage on their doorstep.
参与活动的独立艺术空间,非营利组织和艺术家小组包括:
Independent arts organisations taking part in No Soul For Sale include:
Alternative Space LOOP (Seoul), Arrow Factory (Beijing), Arthub Asia (Shanghai/Bangkok/Beijing), Artis - Contemporary Israeli Art Fund (New York / Tel Aviv), Artspeak (Vancouver), Artists Space (New York), Auto Italia (London), Ballroom (Marfa), Black Dogs (Leeds), Barbur (Jerusalem), Capacete Entertainment (Rio de Janeiro), Casas Tres Patios (Medellín), Centre Cinématèque de Tanger (Tangier), Cinema Project (Portland), cneai= (Paris-Chatou), Collective Parasol (Kyoto), Dispatch (New York), e-flux (Berlin), Elodie Royer and Yoann Gourmel - 220 jours (Paris), Embassy (Edinburgh), Exyzt & Coloco (Paris), Filipa Oliveira + Miguel Amado (Lisbon), FLUXspace (Philadelphia), FormContent (London), Galerie im Regierungsviertel/Forgotten Bar Project (Berlin), Green Papaya Art Projects (Manila), Hell Gallery (Melbourne), Hermes und der Pfau (Stuttgart), i-cabin (London), Intoart (London), K48 Kontinuum (New York), Kling & Bang (Reykjavík), L'appartement 22 (Rabat), Latitudes (Barcelona), Le Commissariat (Paris), Le Dictateur (Milan), Light Industry (New York), Lucie Fontaine (Milan), lugar a dudas (Cali), Machine Project (Los Angeles), Mousse (Milan), Museum of Everything (London), Next Visit (Berlin), New Jerseyy (Basel), Not An Alternative (New York), no.w.here (London), Oregon Painting Society (Portland), Or Gallery (Vancouver), P-10/Post Museum (Singapore), Para/Site Art Space (Hong Kong), Peep-Hole (Milan), PiST (Istanbul), PSL [Project Space Leeds] (Leeds), Rhizome (New York), Salamanca (Jerusalem), San Art (Ho Chi Minh City), Studio 1.1 (Liverpool), Suburban (Chicago), Swiss Institute (New York), The Mountain School of Arts (Los Angeles), The Royal Standard (Liverpool), Thisisnotashop (Dublin), Torpedo - supported by the Office for Contemporary Art Norway (Oslo), Tranzit (Prague), Viafarini DOCVA (Milan), Vox Populi (Philadelphia), Western Bridge (Seattle), Western Front Society (Vancouver), White Columns (New York), Y3K (Melbourne), 2nd Cannons Publications (Los Angeles), and 98 Weeks (Beirut).